Blind vias are holes which connect the outer copper layer with the chosen inner layers. This solution is used in multi-layer PCBs. Those holes do not go through the whole circuit (see the drawing below).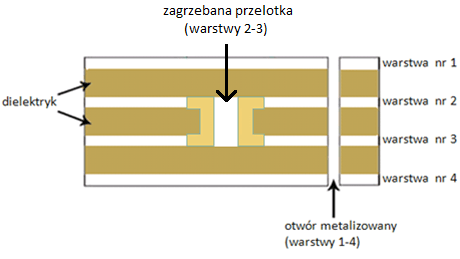 By using blind vias the possibilities of PCB projectgive a lot of possibilities, e.g. the copper area in the inner layers is used a lot more effectively.
The depth and diameter of blind vias depend on your project, although there are some limitations:
for the holes with the diameter <= 0.9 mm – max. blind via depth is 75% of the drill diameter,
for the holes with the diameter of more than 0.9 mm – max. blind via depth equals the drill diameter.
If you do not follow those rules, certain problems with metalization might occur, which might cause problems with electric connections between the layers.
Blind vias can be used from one (either) side or from both sides of a multi-layer PCB at a time. It is also worth to keep in mind the fact that this technology requires using gold plating.